Maintaining your exterior steel doors  is a simple way to increase the energy efficiency of your commercial building and lower the carbon footprint of your facility. Here are 6 products aimed at keeping your exterior doors energy efficient.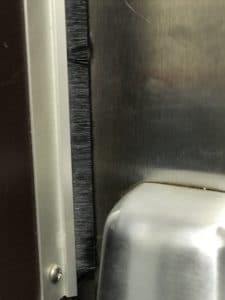 Door perimeter seal ( shown above). Perimeter door seals come in 3 pieces, and are attached to the sides and top of a steel door frame with screws, making them a very durable choice.  This one shown is an aluminum brush seal made of synthetic Polyamide.

Synthetic polymer
Excellent abrasion resistance, flexibility and memory
Moisture resistant
Retains insecticides well
Temperature range -70 F to 425 F
BHMA Certified to ANSI/BHMA A 156.22 p3rformance tests for Hea, Cold, Air Infiltration and Smoke Infiltration in most common profiles as indicated by BHMA Certified symbol
REACH and ROHS compliant
Not effective against water penetration
Colors:  Anodized aluminum with gray brush, gold with black brush, dark bronze with black brush or mill aluminum with gray brush
Other types of door seals , also known as door gaskets, include silicone, neoprene, polyeurothane, foam, or vinyl bulbs. Many of these options are flame and moisture resistant, and some stop smoke and air filtration.
2. Door sweep.   Mounted to the  bottom of a steel door with screws, aluminum with nylon brush sweeps are similar to the photo above and match the perimeter door brush seals.  Another option is automatic door bottoms, which when used in conjuntion with a threshold create an optimum door sealing capability.  Another way to prevent the transfer of outside temperature and frost through the door show is to add a thermal break door shoe, which features rigid PVC spline.  Door shoes can be neoprene, nylon brush, or silicone.
3. Door threshold. Saddle thresholds, heavy duty thresholds for use where Forklifts or vehicular traffic occurs, ADA compliant bumper seal thresholds, or offset thresholds all add to the ease of entry into a commercial building and aid in creating a thermal seal to increase the energy efficiency of the building envelope. Made typically of aluminum, they also come in slip resistant textured surfaces or  powder coated.
4. Exterior Steel Door Drip Cap.  Exterior door drip caps are crucial for preventing water infiltration and  are critical for shedding rain water from the area of the opening. This can prevent rusting of steel frames and doors adding longevity to your exterior doors.
5.  Exterior Steel Door Closer. The purpose of a closer is to ensure that the door closes and thereby latches; and prevents a door from slamming shut. Obviously, if a door does not close properly, the safety and security of the building inhabitants is also at stake.  But making sure the door closes serves another purpose- to reduce the amount of air filtration into the building, so your cool air conditioned office will use less energy to cool the building, and likewise, in colder months will require less energy to heat the building. Manually inspect your door closer for fluid leakage and check to see that they are adjusted properly with enough force to swing the door closed so it latches properly.
6.  Door Hinge.   If your door doesn't latch, or a dead bolt is not aligned properly, it could be caused by a  loose hinge. Checking hinge screws to make sure the hinge is solidly attached to the door and frame can also add longevity to your exterior steel door.  If the weight of the door has caused the door to sag and drag on the pavement, it's time to think about a continuous hinge. Allowing the door to swing freely is important to the overall function of the closer, lock, latch, deadbolt and door seals.