school security doors
The 6 best Classroom door security locks
School Lockdown Door Security Device Options: How to make classroom doors more secure and school doors safer.
LOCK FUNCTION AND TYPE- We recommend: Classroom Security Function locks.  Locks / Unlocks from inside by key or outside by key. (or electronic fob/credential if electrified) 

See lock function explanation

 

CYLINDERICAL OR MORTISE-lock from the inside  *additional deadlatch for added security

MECHANICAL OR ELECTRONIC locks -either WORK with key, fob, and/or card credential! 

EXISTING DOORS AND FRAMES- steel, reinforced, frames and commercial grade doors and  locks windows not to exceed 12″ with extra glazing film or protective grate.

ENTRANCE DOORS- buzz in, card readers, cameras

VESTIBULES- another layer of security-custom fabricated steel – two sets of doors creates A locked chamber that should direct visitors through the office with a buzz in.

STEEL WINDOW WALLS added vision with bolistic protective film

PANIC DEVICES with  classroom security function locks & visual indicators

DOOR POSITION SWITCHES-on all exterior school doors
PANIC BUTTON installed in main  office- sends 911 signal
LOCKDOWN  BUTTON installed in main office if you have networked access control  can instantly lockdown  entire building (if doors are closed!!)
RETROFIT KITS AVAILABLE -convert classroom lock function to classroom security lock function (upgrade kits for Schlage ND and L Series classroom locks)
LATCHGUARDS for added security
VISUAL LOCK/UNLOCK INDICATORS
EXTERIOR DOOR SENSORS
KEY MANAGEMENT SYSTEM  in place
.02. Schlage L9071
 
04. 

Schlage 

CO220 Stand alone electronic school security lock
06.

 SCHLAGE AD 400 Networked Wireless classroom security Lock
Proven Success
The Numbers Don't Lie
No interior locked classroom door has ever been kicked in or breached by an active shooter.  Beware of salesmen selling cave-man technology school door barricades that break the law and violate NFPA 80 fire codes and Life Safety 101, along with ADA non compliance.  These school door barricades are a liability problem for schools and could cause unintended and very dangerous consequences if a predator used them. Staff and first responders may not be able to get into a classroom.
Locked classroom doors that were breached by shooters
Documented instances where predators have used barricades to lock students in a classroom
access control & school door electronics
What We Do Best
Door position switches
These low voltage school door sensors alert school administration to unauthorized open egress doors on the perimeter of a building envelope.
panic buttons
Panic buttons can not only alert law enforcement of an emergency, but can also be used to lockdown  school doors using electrified door hardware.
Security Management Systems
We integrate electrified HES door strikes or Schlage door locks with existing IT Network school platforms. We also help train staff on stand alone and programmable electronic locks like Schlage CO220 classroom security locks.
School key management systems
We keep your school keying records, help you set up a system and are authorized to duplicate
Schlage Primus  & Everest High Security keys
.
For securing an IT room door –Schlage  Primus or Everest restricted and authorized user keys
Fire Door labeling and inspections
Our certified fire door inspector can do a full maintenance check on all of your doors to ensure they are all up to code.
Custom Vestibule Hollow metal Steel Fabrication
We can fabricate your custom designed secondary school entrance or added vestibule to direct visitors through specific doorways for another added layer of door security.
School entrances and vestibules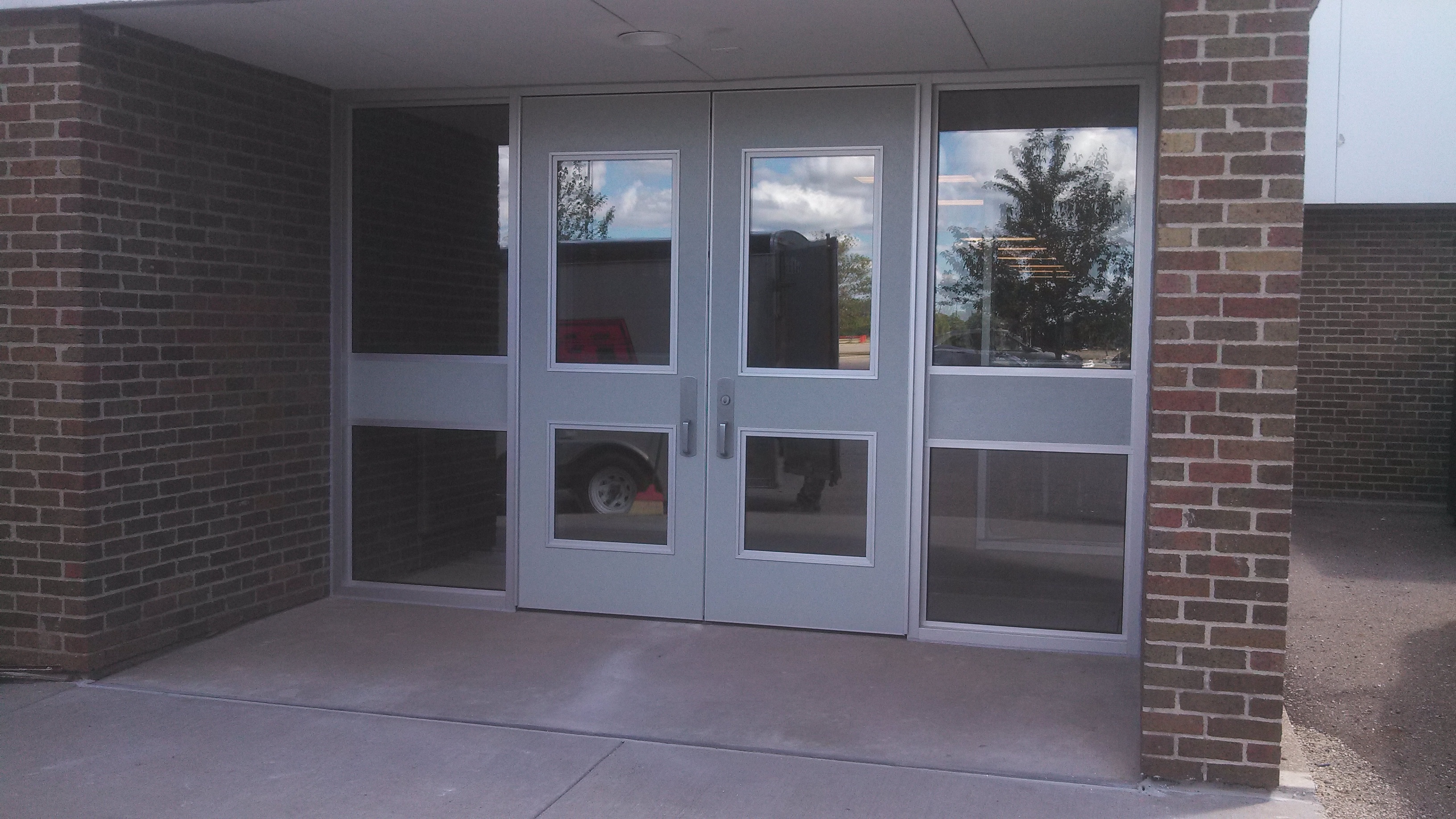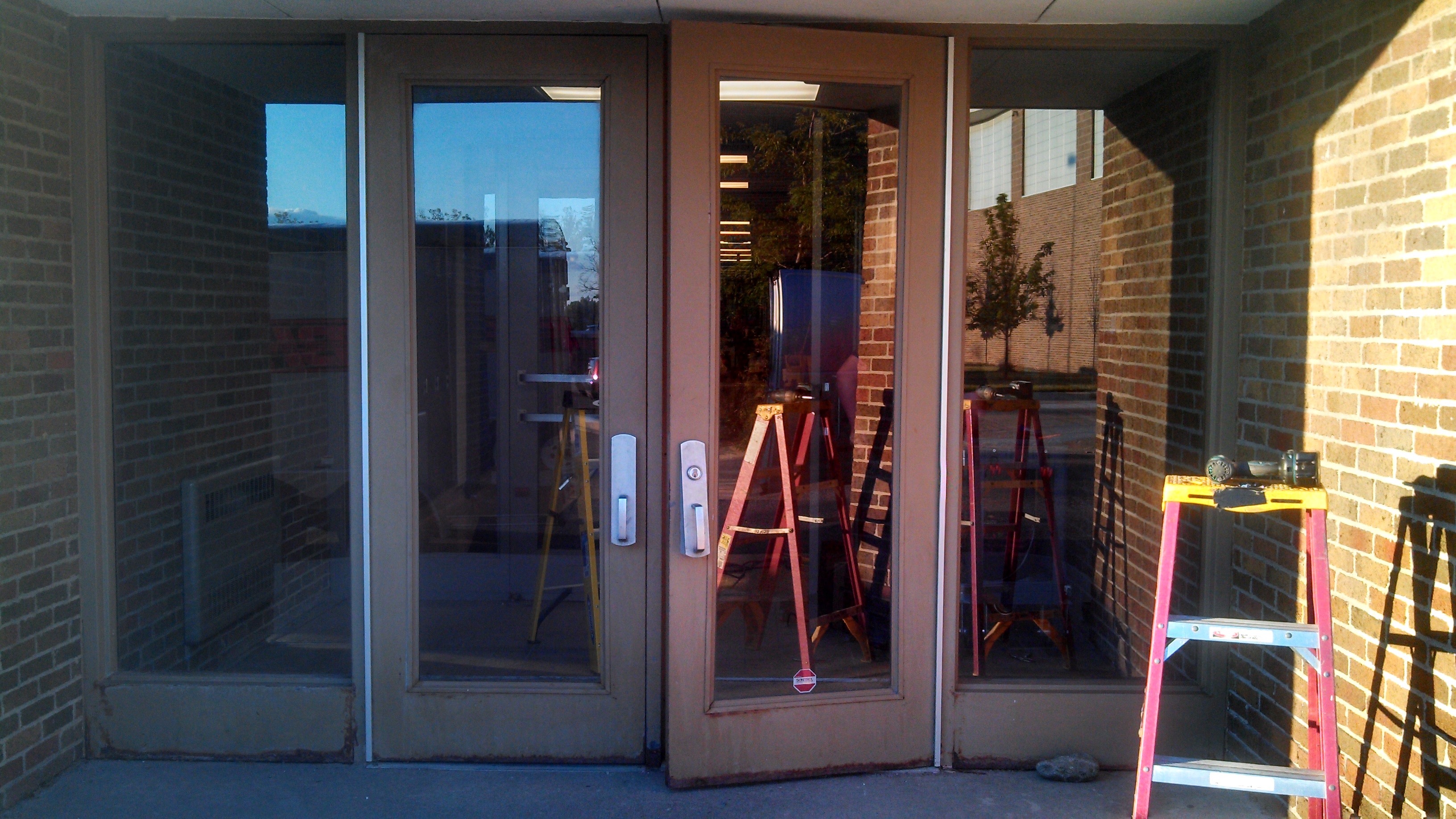 replace full glass doors
We remove old doors with full glass and replace, install new safer and more secure school entrance door systems.
Old School door removal and replacement. Retrofit your school entrance and add a vestibule for an added layer of door security to your school entrance.
The main entrance of a school should be clearly marked and direct traffic through a secured vestibule that is visible from the main office where visitors are directed to walk through in order to gain entrance into the school.  Perimeter doors should be limited, and locked at all times.  Vestibules should  be transparent  for natural surveillance, and hollow metal window walls provide that surveillance and bolistic film can be added to the windows.  Bullet proof glass can be added at a reception window for optimum protection.
This is an example of a good design I found, published by the Texas Association for School Administrators.
FBH Architectural Security
Main office
600 Bloor Ave., Flint, MI  48507
FBH Contract Sales
1080 Rosewood St. Suite A, Ann Arbor, MI  48104
FBH Architectural Security Main office600 Bloor Ave., Flint, MI  48507
FBH Contract Sales ,1080 Rosewood St. Suite A, Ann Arbor, MI  48104